What Type of Pallet Racking Do I Need?
Any questions about the second-hand pallet racking services that we can offer you, give us a call on 0800 085 8117 or complete an Enquiry Form on our Contact Us page.
As there are many types of pallet racking available in today's market that are designed for a particular type of storage solution, it may be difficult to decide what type is suitable for your business. It is important you consider all the available options when choosing the pallet racking for you.
The type of pallet racking that best suits your requirements depends on a variety of factors which will be discussed in this FAQ.
Cantilever Pallet Racking
Cantilever pallet racking is used for the storage of large and elongated goods, making this type of racking popular for storing building materials and furniture.
The racking itself is made up of different components to give it its structure.
Uprights – vertical beams that support the arms.
Base – the uprights connect directly into the base which is typically bolted together which can be set at different angles depending on your storage requirements.
Arms – these are horizontal beams that support the load which needs to be stored. Again, these can be adjusted depending on storage requirements.
Braces – connect and support the uprights, providing added strength for storing heavy products.
Advantages:
Easy to install
Ideal for long products
Can store products up to 6 metres high
Additional arms can be added to store products of all shapes and sizes
Disadvantages:
Need an aisle space in between every rack
Requires very large aisles
Drive In Pallet Racking
Drive-In pallet racking is ideal for the storage of large quantities of similar stock and is a fantastic way to effectively optimise the floor space in your warehouse. Rather than stacking products on top of each other, pallets are stored on the drive in rails. Forklifts lift loads to the required level and enter the storage lane and deposit the load at the furthest point. This is then repeated until the lane becomes full.
This type of pallet racking is especially useful for storing refrigerated and frozen products as much more space is utilised meaning the cold store is more energy efficient.
Advantages:
Good for storing similar products
Optimises floor space by up to 85%
No need for aisles
Cost effective
 Disadvantages:
Low stock rotation
No direct access to specific products
Narrow Aisle Pallet Racking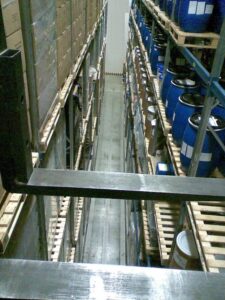 Narrow aisle pallet racking is perfect for the storage of food and drink, manufacturing and industrial products.
Narrow aisle pallet racking generally has a space of 1.6 metres between each aisle, making it ideal if you are limited on floor space. This type of pallet racking was designed to maximise storage capacity within a small footprint. A well organised narrow aisle pallet racking installation provides flexibility in the positioning of shelves. It can also save significant amounts of warehouse storage space and therefore reduce your storage costs.
For this type of pallet racking, it requires the usage of special forklifts that operate by a means of a guide rail which a cost to be considered.
Advantages:
Adaptable and flexible
Access to every pallet
Better utilisation of space
Good for smaller warehouses
Disadvantages:
Requires the use of specialist equipment
Wide Aisle Pallet Racking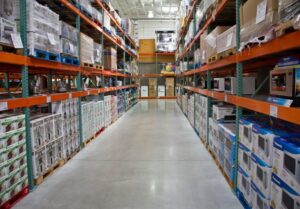 Wide aisle pallet racking is also perfect for the storage of food and drink, manufacturing and industrial products.
This type of pallet racking allows direct access to every pallet and is simple to adjust to accommodate alterations in the size and shape of products. A minimum space of 2.5 metres between the aisles is required. A standard counter balance truck can be used in aisles 3.5 to 4 metres wide. It should be noted that reach trucks can only be used in aisles of 2.5 metres wide.
Advantages
Utilises 40% of current floor space
Every pallet is easy to access
Loading and unloading to very straightforward.
Good for large warehouses
Disadvantages
Restricted height when using a standard lift truck
If you need any further help in deciding what type of pallet racking is best suited to your business' needs, do not hesitate in contacting us today. Call us on 0800 085 8117 or fill in our contact form and a member of our team will get back to you.