You may wish to sign up for newsletters or read industry magazines to help expand your knowledge of pallet racking and warehouses. There are many newsletters and magazines available online to read at your convenience and so the choice can be difficult.
Signing up to these newsletters and magazines is a great way to regularly learn about important changes and news relating to the industry. As they may include similar information in them, it may be difficult to find out which is the most useful or suitable publication for you.

We have compiled data from Google to help determine which newsletters and magazines are best to sign up for based on popularity of searches. Our research was based on looking at the average monthly searches in Google for the name of the publication or business which provides a newsletter/magazine.
We used Google's Keyword Planner to get this information.
Top Warehouse Industry Newsletters / Magazines
Our keyword research found that Warehouse & Logistics News is ranked top of our list of warehouse industry magazines and newsletters.
Please see the graph below to view full details of our keyword research: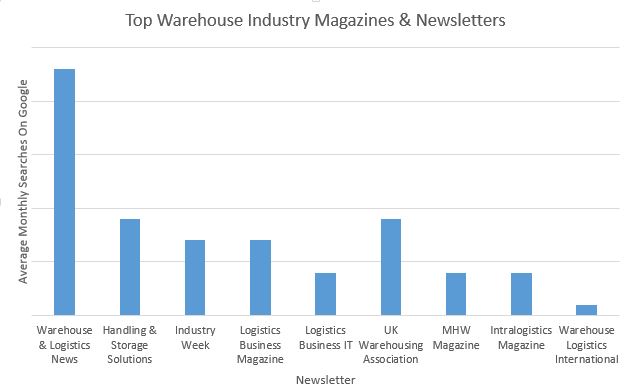 As you can see from the graph above, Warehouse & Logistics News received over double the number of average monthly searches on Google than the second most popular searched newsletters – Handling & Storage Solutions and UK Warehousing Association.
Other newsletters on the list include Intralogistics Magazine and Warehouse Logistics International.
This is just a simple guide to show what warehouse industry newsletters and magazines are available online in the United Kingdom that are valuable in enhancing your awareness and knowledge of warehouse storage and pallet racking.