Mezzanine Flooring: What Do I Need to Know?
What Is A Mezzanine Floor?
It is likely that you have seen, shopped on or worked on mezzanine flooring even if you're not familiar with the name.
In a warehouse context, a mezzanine floor is that is a semi-permanent storey of flooring installed above the existing floor to provide extra warehouse storage capacity. In retail premises, they can be used to add an extra section of shopping space or offices away from the main shop floor.
They are often used in corners of buildings or along one section and in a warehouse they are likely to be made using similar steel supports as pallet racking systems and have a wooden floor. In retail premises, they can be used to add an extra section of shopping space. The best way to sum them up might be to imagine a large indoor balcony.
Installation can potentially enable a business to double its storage space, thus maximising its use of existing premises and avoiding the need to move to a larger premises. As such, it often provides the most economical solution to warehouse storage problems.
As the floors are constructed on a steel framework. The method of construction is very flexible, and they can be designed to fit into almost any space, so long as the warehouse has sufficient height.
If the need arises it can be taken down and adapted for re-use in another situation, but equally they may well come to be regarded as part of the fabric of the building.
When designing, you need to give great consideration to its design, in order to arrive at the best use of the available space at the lowest possible price.
If your business is expanding, then you might feel like you have outgrown your premises. However, moving to larger premises may not be the only option you have. Moving premises will consume vast amounts of time, have high costs, create extended periods of business downtime, and become a logistical nightmare. Instead, adding mezzanine floors could solve all of these problems.
Although planning permission is not required, you must ensure that its construction conforms to current Health & Safety regulations. See the following Health & Safety Executive website for more information: www.hse.gov.uk/construction/cdm.htm
At the planning stage you also need to familiarise yourself with the relevant building regulations, and make an application for Building Regulations Approval.

What Are The Different Types?
There are three different types that can be installed:
Office: these are beneficial for companies requiring more clerical space. Often used for administrative purposes such as more desks and computers or for industrial businesses wanting an office space above the working area. They can be fitted with light and sound insulation systems as well as effective heating solutions to create a comfortable working environment.
Tiered: sometimes warehouses have extensive amounts of vertical space such as picking and packing warehouses or car storage warehouses. These areas are suitable for tiered which would include multiple levels of flooring, expanding the available work area by significant amounts.
Storage: This is the most common type, used by warehouses that have high levels of stock holding that are wanting to increase the storage space. They can be equipped with non-slip flooring and mesh enclosures to effectively adhere to health and safety regulations.
What Are The Benefits?
The benefits include:
Cost-effective: This structure is cheaper than expanding on warehousing space with additional building construction. Saving the cost of architect's drawings, gaining planning permission and paying for the building work. Whilst also preventing the hindrance of having to run the business around building work. You are already warming the air in your vertical space, so your heating bills will not shoot up either.
Maximise space: By extending vertically, you can prevent a waste of potential capacity by changing air space into floor space. It has the potential to double the square footage of the floor it is built on.
Improve operational efficiency: Stock management becomes easier with more space for storing boxes and equipment or adding pallet racking. Options include non-slip floors and mesh enclosures.
Separation: You can separate teams, create a meeting or breakout room, and get everything you would expect from a standard floor, such as carpets and plug sockets.
No planning permission: The requirement for planning permission is rare. However, if your premises are leased, you will need to ensure that this conforms with the regulations set out by the landlord. You may need to also consider building regulations.
Flexibility: A freestanding platform is not built into the building's infrastructure. This means that it can be deconstructed, moved, and reinstalled. It is a valuable asset that can be extended.
Improved aesthetics: It looks great and can complement the design of your existing space. Options include office windows and soundproofed walls.
Added value to your property: a functional space will be an excellent selling point if you were to ever sell the premises in the future as most other businesses can see the added benefit of this type of flooring.
Modular expansion means low cost upgrades: you can add to this flooring over time because they are modular, meaning that your space can grow at the same rate as your business rather than having to do immediate and often expensive upgrades.
Collaborative working for employees: by adding a clerical style flooring you can bring different elements of a business within close proximity to each other. This means a more integrated and effective style of working for the company.
Saving Time and Business Disruption Fast construction with minimum disruption to everyday business activity compared to construction
What Could We Use It For?
More Space for stock: If you are short of space for smaller products that are better suited for types of shelving other than pallet racking, you should seriously consider investing. They are not suited to forklift access and so is ideal for storing items that can be accessed or picked by people walking to the area. Tools could be stored within shelving on the new flooring or anything that can be carried by hand.
Create work space: If space is taken up by stock or equipment, space for workers to do their job can be limited. This could be a Health and Safety issue as well as lead to decreased productivity where travels on access routes are hindered.
House a division: Apart from storing stock, they are a great way to house a division within your business. Products associated with the division can be placed within the area and sectioning it off from the rest of the business with walls can give it the feel of an entirely separate space.
Build an office: These can provide a perfect alternative to building an office. Cost savings could be significant and an on-site location could improve business efficiency through improved communication and less time wasted traveling between warehouse and office. Being on site could also lead to improved work rates if there is a tendency for 'slacking off' when the boss is not around. If the flooring allows unrestricted views across a warehouse or other facility, it could also go toward improving Health and Safety.
Build a break area: Create a space for workers to take their breaks. The area could be fitted with seating and food facilities as well as lockers and toilets.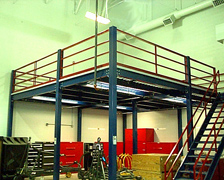 Will My Warehouse Or Building be Able To Accommodate It?
If you have areas of a warehouse or another building with empty space 'in the air', you should be able to benefit from this product.
If you are a retail or other type of business, it is likely that you will need tailored advice to be sure if you can have one or not.
How Much Will It Cost?
Ultimately, the new flooring could pay for itself with a significant cost saving and/or the added productivity. Rather than get a rough estimate of costs, get in touch with us for an answer relevant to your premises and requirements.
You can reduce your costs by buying quality second hand mezzanine flooring from us. It is of first class quality and is checked to meet all relevant regulations. We have stocks of competitively priced flooring and will be able to offer what you need at a price that's good for you.
How Secure Are They?
They are constructed using steel supports and can be wall mounted for added security. We work to make sure that all installations meet current UK Building and Health and Safety regulations
Planning Permission and Building Regulations
It is always advisable to seek advice and check about planning permission and building regulations before starting work on a new mezzanine flooring installation. Regulations for the building of a flooring depend on what the intended use of the area is. If the area is going to be occupied by employees as a workspace you could find that building regulations approval may be required in the following areas:
Structural safety
Protection from falling
Access to the floor and the use of it
Fire safety
Although, if the area of being used exclusively for storage and there are no fire safety concerns, building regulation approval may not be needed. Be aware that no formal planning permission is required when installing in a building that you own although if you are occupying a rented building, you will need permission of the owner before starting installation.
Can You Help Us Take The Next Step?
Yes, we can give all sorts of advice and help you to plan, buy, deliver and install the mezzanine flooring that will help your business. We will tailor our service to meet your needs.
Your first step will be to take advantage of our planning service to make sure your floor is configured to your space and that it conforms to UK Building Regulations as well as meets your unique needs.
All used parts are thoroughly inspected to ensure their quality and ability to provide many years of future use. We welcome all prospective buyers who which to visit our premises to inspect the components. Our stock is extensive, so if you do not see the option you are looking for online, give us a call, and we can recommend a suitable alternative.
Give us a call on 0800 085 8117 or fill in our contact form to discuss your requirements.
Tags: Mezzanine Floors