How Can I Make Best Use Of A Small Warehouse?
In need of any help on how to fully utilise your given space? Feel free to give us a call on 0800 085 8117 or complete an Enquiry Form on our Contact Us page.
With your business growing, you are likely to carry more stock, equipment and general storage, which may become a problem over time. This FAQ focuses on how to utilise the space you currently have available to help make a small warehouse feel huge.
Inventory Checks
An inventory check requires logging all the incoming and outgoing stock for the business so it is clear what you are holding and what is leaving the warehouse at what time, this could also give an indication of where things are moving slowly in the business. As a result, this could benefit towards having a more efficient workforce.
Avoiding inventory checks could become very costly for your business. Holding onto old or unneeded stock can build up when ignored. It may start off being a few computers that you "will sell soon". Over time it gets put to the back of your mind and several more computers, half a library and a cluster of junk start mysteriously growing in the corner. This area could be cleared up and then utilised as a new area to hold new or different stock.
Redesign
Redesigning the warehouse is a great way to work with space you currently have available. But there are a few things you need to know before you start shifting things around aimlessly:
Were there any problems with the previous layout?
What is the exact size of your warehouse?
Consider what stock you are holding and think sensitively regarding the weight and size of these items.
List your fixed materials (racking, walls, machinery).
Look at the possible layouts.
Look at the alternatives, the more options you have the more likely you will find your optimum level for storage.
Considering how your new layout will affect your workforce is very important, this could disturb your business processes.
Pallet Racking
You may currently place all of your storage on the floor or on pallets stored around the warehouse, but how do you access the things at the bottom with everything stacked on top of it? This is where pallet racking comes to 'save the day'…
With several different options, pallet racking is a fantastic option to exploiting both the warehouse floor and its height. The three main options that we offer are:
Dynamic
Cantilever
Drive-in
Mezzanines
Mezzanines are the middle-man between the floor and the ceiling in your warehouse. The basic idea of the mezzanine is that it gives the warehouse an extra storing floor where more stock can be held.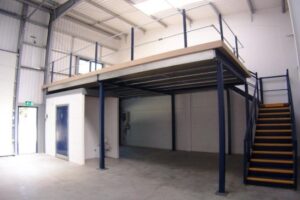 The great thing about mezzanines is that they are a temporary structure. They can be taken down at any time and moved to a different location, although they are not permanent they are a very sturdy addition to the warehouse and seen to be very beneficial. This option should definitely not be ignored.
Health & Safety
Although all of the options listed are fantastic, none of them are applicable until health and safety checks are ran. Ensuring the safety of your employees, visitors and any other person in the business is THE most important task to consider:
Safety equipment is to be supplied and to be worn at all times, at any cost. The equipment should be regularly checked if it is still safe to wear and whether it will protect them from any dangerous situations.
Locating all the dangerous obstacles, and removing any trip/slip hazards. This should also be a regular check by both the warehouse employees and by other members of staff and occasionally by a third-party. If there are unavoidable risks they must be very clearly labelled with a large sign that everyone can read.
Provide suitable training for staff, this could contain things such as how to lift heavy items, how to handle certain machinery, what to do with an injury, liquid spillages etc. No employee should enter the workplace without the relevant health and safety training.
If you have any questions about how to utilise the space in your warehouse, pallet racking systems are here to help you. Call us today on 0800 0858117, or fill in our contact form and a member of our team will get back to you.